Doelstelling en bestuur
De stichting Thessalika Erga ondersteunt archeologisch onderzoek in Thessalië, Griekenland. De stichting verleent subsidies voor reis- en verblijfkosten van studenten die deelnemen aan veldwerk in Halos en aan onderzoekers die Halos-materiaal bestuderen. De stichting ondersteunt ook de uitgave van publicaties met onderzoeksresultaten.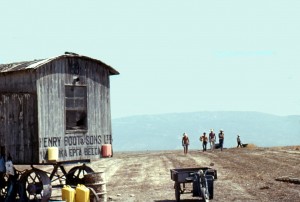 Thessalika Erga is genoemd naar een Britse firma die het meer Karla in de jaren 1930 heeft droogelegd. Een van de laatste keetwagens was nog in gebruik bij de opgraving Magoúla Visvíki in de jaren 1970.
RSIN/fiscaal nummer: 8100.16.424
De bestuursleden van de vereniging ontvangen geen vergoeding voor hun inzet. De vereniging heeft geen personeel.
Bestuur:
Wietske Prummel, voorzitter
Marloes Bergmans, secretaris
Corien Wiersma, penningmeester
Pieter Swart, bestuurslid
Secretariaat: Poststraat 6, 9712 ER Groningen
English version:
Thessalika Erga supports archaeological research in Thessaly, Greece. It gives grants for travel and accommodation costs of students participating in fieldwork at Halos and of scholars studying Halos material. The foundation also supports the publication of the results of the investigations.
Thessalika Erga is named after an English company that drained Lake Karla in the 1930s. One of the last shack carts of the company was still in use near the archaeological site of Magoúla Visvíki in the 1970s.
Board:
Wietske Prummel, chair
Marloes Bergmans, secretary
Corien Wiersma, treasurer
Pieter Swart, member
Secretariat: Poststraat 6, 9712 ER Groningen, Netherlands